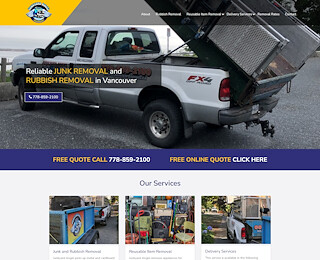 Need a reliable junk removal company in Vancouver to haul away your junk or rubbish? Junkyard Angel is committed to removing both junk and rubbish from residential and commercial customers as efficiently as possible. Service is reliable, efficient and environmentally responsible, and Junkyard Angel ensures that materials are reused and recycled when at all possible.
Flexible services are designed to meet the needs of each and every customer and each individual job. Junkyard Angel possesses the appropriate equipment to complete any size project. If you have items that require a tractor to get them into the removal truck, it's not a problem. Although Junkyard Angel is normally open on weekdays during daylight hours, they are willing to work on weekends and nights if necessary to complete your junk removal project in Vancouver.
A specific fee is charged for certain single items like furniture, mattresses, appliances, and propane cylinders. Aside from those items, the charge for mixed junk and rubbish is by the volume of the load. The following is a comprehensive list of prices for single items, but is not an all-inclusive list:
– Mattress from $70 individually 
(add $20 for pocket coil), $30 each with load
– Boxspring from $70
– TV from $65
– Stove from $75
– Dryer from $75
– Washer from $75
– Refrigerator from $100
– Couch from $100
– Loveseat from $85
– Chair from $65
– Tires from $7
You'll find that Junkyard Angel's junk removal volume rates are competitive with any other company around Vancouver. The difference is, with Junkyard Angel, you're going to get exceptional customer service:
Full load (approx. 5 cubic yards) $300
3/4 load $250
1/2 load $200
1/4 load $125
Please note that a surcharge may apply to volume loads for heavy material such as concrete, soil, and tile. For jobs involving extraordinary loading distance (e.g. more than 20 steps), a surcharge of $75 per hour for two men may apply.
Of course, nobody likes to see piles of junk and rubbish in the neighborhood, and having them accumulate over the years in your residence or place of business can be very unsanitary. Hiring a junk removal service in Vancouver can help get rid of all the rubbish in your property. 
Professional junk removal is recommended for a safe, efficient, and proper disposal of any rubbish or trash. Junkyard Angel can deal with any amount of trash and unwanted items that need to be disposed of- whether that's a few cans or a truckload. Once the junk is removed, you can improve safety and health standards on your property, and you'll have more space for the projects you want to start working on. You may even find that your property value is increased.
If your pile of rubbish has gotten out of hand and seems unmanageable, call on the professional junk removal services of Junkyard Angel in Vancouver at 778-859-2100. They're the most reliable junk and rubbish removal company in the Greater Vancouver area, and they'll help you solve your junk issue.